In a world where we are relying heavily on technology to access content online and with the demands that remote learning and lockdown have imposed upon us, it is unsurprising that our children are being exposed to a world of online activity than ever before. It is incredibly difficult for some of us adults to keep up with what the children are doing online. Lockdown will have seen children engaging with friends online more than ever before and with new apps and social media platforms being created and launched every day, how do we keep up with children the ever-changing online world?
We simply cannot and that may seem like a very worrying fact for parents.
As a teacher (and a parent) I am aware that I won't be able to prevent children from using apps that are deemed unsuitable: I can warn the children of the dangers but children will be children; they will be inquisitive or perhaps will feel peer pressure to have apps because their friends have them.
Therefore, it is paramount that we educate children on how to stay in control of what they are doing online and what to do if they feel they are worried or anxious about something they have seen or done online.
At Cargilfield, we learn how to be Internet S.M.A.R.T.
Safe – Stay safe by ensuring personal information and passwords are kept secret.
Meet – Never meet with an online friend in person, even if you feel you know that person well.
Accept – Do not open or accept e-mails from people you do not know.
Reliable – The Internet is not always reliable. It contains a lot of false information.
Tell – Tell a trusted adult if anything online makes you feel uncomfortable.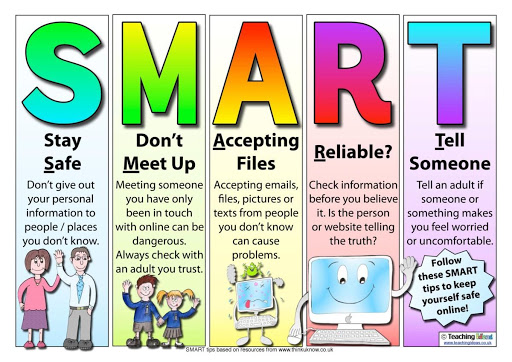 The most important one I focus on is Tell. In the real world, when something is bothering us, we need to tell someone. A problem shared, is a problem halved. It is important that we do not bottle it up inside. The exact same approach should apply when we feel something online is bothering us.
Of course, this might be seen as being easier said than done. What if a child was forbidden to download a particular app but did it anyway and then someone started sending them hurtful messages? Would the child be too afraid to tell because they are more worried about the consequences of disobeying their parents? In my lessons, the message to the children is that parents would be more upset if you kept your worries to yourself and not tell them. The children are also aware that there is always the option to speak to a teacher at school or another adult that they trust.
The Internet is so vast and exciting to young children but there are so many pitfalls and perils that they won't be aware of. We all have to play a role in keeping our children safe when online and can constantly remind children of these dangers but my advice to parents is to take an interest in what their children are doing online and to remind them how to be Internet S.M.A.R.T.
If parents would like to know more about what they can do to help, I recommend the following websites:
https://www.thinkuknow.co.uk/parents/
https://www.childnet.com/parents-and-carers
https://www.saferinternet.org.uk/advice-centre/parents-and-carers
RM