The U13 girls travelled south to Sussex for the Qualifiers this week. After a flight to Gatwick, we picked up our bus and headed off to the hotel for a quick rest before heading out for supper in Eastbourne. The chocolate fountain was definitely a highlight of the evening, and we returned to the hotel for an early night ready for the big day.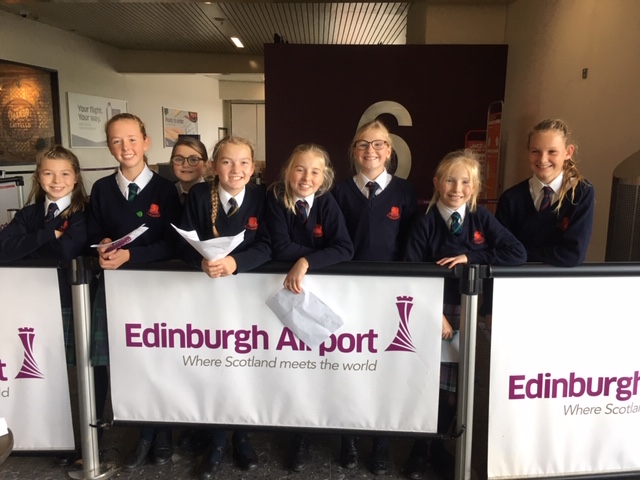 The day of the qualifiers started off with a constant drizzle and when we arrived at Bede's, the rain became a little heavier. As the skies cleared, the tournament started, and the girls began a long day of hockey.
The matches were 8 minutes one way, so not a lot of time to score. Our first match was against Kings Royal. We had a good warm up in preparation and were raring to go. We started well and soon found ourselves 1-0 after a lovely ball through from Sophie which found Saphira who nimbly swept the ball in to the goal. Soon after, Izzy scored with a reverse strike. We relied on Flora in this match for her steady head and calm play, and the opposition struggled to get past her. A flurry of short corners followed with Saphira hitting the post, but time ran out and we finished 2-0 up.
Cargilfield 2 Kings Royal 0
We played Westhill Park next and this was a match, looking back, that we should have won. We started with the centre pass and drove the ball up high. We had a lot of pressure but were consistently penalised by some interesting umpiring. Izzy won a short corner but we were denied a goal. Saphira pressed the goal keeper hard in the dying seconds but she made a good save.
Cargilfield 0 Westhill Park 0
St Andrews Prep School were our next opponents and despite a couple of good games under our belts, we were caught on the back foot and conceded an early goal. The girls saw red and we pushed up with Saphira scoring the equaliser. We continued to press and Laura was unlucky not to score as they ball skimmed past her post. We continued to press hard however just couldn't manage to get the important winning goal.
Cargilfield 1 St Andrews Prep 1
Our match v Feltonfleet was always going to be an important one and we needed a much deserved win. Caitlin was the hero and saved a good shot at goal, seconds in to the match. The play swung back to our attackers and Izzy won a short corner. An illegal saveon the line saw us awarded a penalty stroke and Sophie cooly slotted it away past the keeper. We showed better urgency in this game. Clemmie was really finding her confidence in this game and stepped up her game, working well with Emma.
Cargilfield 1 Feltonfleet 0
We had a bit of a wait until our next match so the girls had a good warm up to re focus. Whatever we did clearly worked as the girls played well. We won a short corner after 20 seconds and Sophie scored from a straight strike. Another goal quickly followed from Saphira who was fed a lovely hard ball through by Sophie. Izzy won another short corner and Sophie scored again. The play swung back to our defence but Izzy sprinted back and somehow got the ball away. Another goal from Sophie followed and after a bit of a chaotic few minutes we finished the match as winners.
Cargilfield 4 Kings Rochester 1
Our final group match was against Cumnor House and it was an extremely close and entertaining match. We piled on the pressure and won a short corner. Switching the ball to the other side, Izzy injected to Sophie and she scored with a hard straight strike. The play quickly swung back and we lost a short corner .Izzy ran well however the ball got past and hit off Emma's stick in to our goal. We lost another short corner fairly quickly but thanks to some great saves from Caitlin, we kept the ball out.
Cargilfield 1 Cumnor House 1
Our results were enough for us to finish top of the group before the knockout matches started in the afternoon session.

The quarter final match was against HolmewoodHouse. The rain was battering down again at this point and the girls did well to battle on. Saphira started the scoring off and things were going to plan until the opposition's pressure paid off and they slotted a goal in to the back of the net. They won A quick short corner and sadly scored again, just before half time.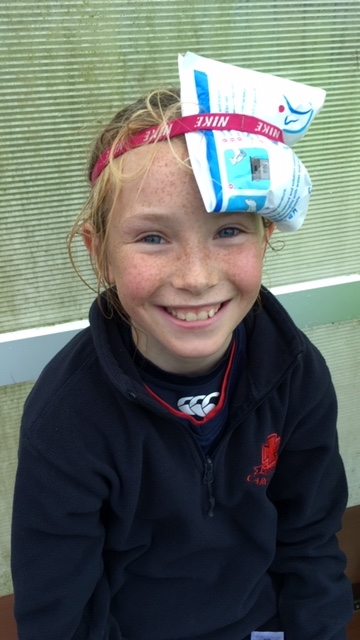 The second half was riddled with injuries; Emma had a nasty blow to the chest but Izzy won the prize for the most fabulous egg on the head. Izzy tackled hard and the ball shot up and hit her with force on the forehead. In true Izzy style, she battled on and ironically played one of the best halves of the day. Perhaps the rage had set in!!?? Sophie equalised the match and it was looking like we were heading for a draw when in the last phase of play, Sophie scored from a short corner. As always, we found strength and width from Flora and she moved the ball well to our forwards. This was a particularly frustrating game with the umpiring decisions not going our way and a few questionable decisions being given to the opposition. Cuan and I both aged 10 years in this match and this was a very sweet win, considering how hard the girls had played after a very tricky game.
Cargilfield 3 Holmewood House 0
We were drawn against St Andrew's in the semi's, and knew we had to win the match to qualify. We started well and pressured their defence from early on. Clemmie played a lovely hard ball through to Flora who yet again, found great width and pushed the ball up high. We had 3 or 4 good shots at goal and It was great to see Flora in particular have the confidence to shoot hard. Despite Izzy winning a short corner in the dying seconds, we didn't manage to score and we entered half time at 0-0, having been unlucky not to score.

St Andrew's started the second half strongly and Caitlin made a great save, keeping us very much in the match. Izzy, with her egg growing by the minute, played well and a reverse strike from Sophie saw us edge ahead. Their goal keeper was particularly good, and she certainly made us work hard. The opposition were very complimentary of our play, and is was lovely to play against such a fair and humble team.
Cargilfield 1 St Andrew's 0
With our place in the National Finals secured, we started the final against Cumnor with a few more relaxed faces. That said, we were keen to finish the job properly. We started on the attack and within less than a minute, we had won a short corner and a goal from Sophie soon followed. We lost possession briefly but the play swung back to our attackers, and it was great to see Laura, Izzy and Sophie link so well. Laura was a strong member of the team in this match and she really troubled the Cumnor girls - I wonder if her Dad had told her to play particularly well against this team, as an old rival school of his!? A last minute strike from Izzy narrowly missed and we entered half time 1-0 up.
The legs were looking understandably a little tired by this point and we lost a short corner early on. Strong defending from Emma and Clemmie saw off the opposition and yet again , the girls found Saphira who troubled their goal keeper. The play swung back to our defence in the last few minutes, and we all drew our breaths as they broke through however as always, Emma had her cool head on and swiftly cleared the ball away safely. The match finished 1-0 to us, and the dream team had a well deserved win, topping the tournament and claiming their gold medals.
Cargilfield 1 Cumnor 0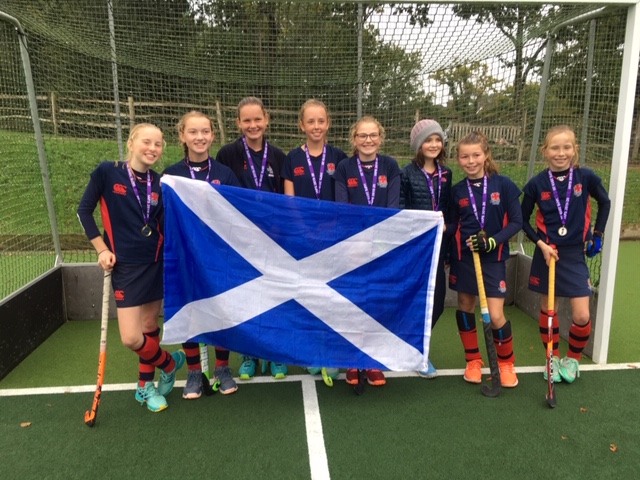 A massive well done to all the girls; they displayed such a strong work ethic throughout the day and worked hard for each other. Despite the wet and soggy conditions, they stayed focused and I really admired their grit and determination to get the job done.
We couldn't have got through the day without all the help and support from the parents, and a massive thank you for such a brilliant turn out. Your constant offers of dry clothes, food and general help really made a difference.
It was lovely to hear that back at Cargilfield, our progress was being updated game by game and we came back to a lovely whiteboard outside the Office of all our results!