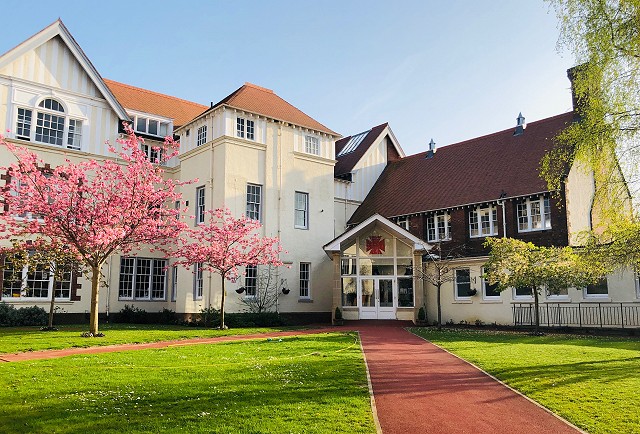 This year, more than ever, the qualities of the School's management team, led by Rob Taylor (Headmaster since 2014) and John Collins (Bursar since 2017) were put to the test by the COVID crisis. While the initial onset of the virus in March led to a period of weekly meetings involving governors and senior staff, we were lucky to complete the Spring term on Friday March 20th ahead of the national lockdown. From then on, plans were created to introduce a period of remote learning. Staff and children were trained in the use of MS Teams. Computers and tablets were distributed to support those who did not have the necessary hardware at home and hard copies of teaching materials were delivered at the start of the new term. For younger children, this distribution continued throughout the term. The children of key workers were invited into school each day and were supervised in their remote learning alongside a series of onsite activities.
Further modifications were made to the timetable at half-term and Common Entrance exams were managed remotely at the start of June. Unfortunately, the continuing restrictions meant that children were unable to return onsite before the end of the school year, meaning that the Form 8 leavers' programme had to be conducted entirely online. Nonetheless, the term continued through to the published end of the year on Friday 3rd July.
While we would not have wished this situation upon ourselves, we felt that the entire School responded well to the new challenges of what turned out to be a whole term of remote learning. The staff team pulled together to ensure the ongoing development and welfare of the children. Plans were made for the return to site in August and these continued throughout the Summer holiday.
In the 2019/20 academic year, pupil numbers were slightly down on last year although still at a healthy level with numbers rising to 308 by the start of the Summer Term, with 38 children in the Nursery, 84 in the 5-8 Pre-Prep age group and 186 in the 8-13 Upper School. Flexible boarding arrangements remained a key part of the character of Cargilfield in the first two terms, with about 50 children resident for all or part of the week. The advantages of a boarding culture are apparent in the offering of evening clubs and academic extras and the vibrancy of full weekend activities such as year-group leadership skills and outward-bound camps. Such flexible arrangements offer a critical first introduction to boarding, allowing parents and their children to consider a full range of subsequent senior school options. This year we stopped the provision of occasional boarding as this tended to undermine the settling routines of boarding but we did offer taster nights for younger children to try boarding with their own year group. These were used but not perhaps as extensively as expected: perhaps confirming that many parents are reluctant to encourage their children towards boarding too young.
The pastoral care of our children is essential to Cargilfield's values and its success. This exists within the framework of a family-run environment which is both a school and a second home to many children. We have continued a programme of training staff in managing the welfare and mental health issues facing our children. This process is underpinned by staff who are trained in mental health first aid, our School Nurse and a school counsellor, who is available to support both children and their families. Our senior children have undertaken a revised course of instruction and discussion in Personal, Health and Social Education, working more informally in small groups on Wednesday evenings: something that has now become an established part of our routine. A group of senior children also undertook training as anti-bullying ambassadors.
The School Nursery was last inspected by the Care Inspectorate in March 2017, and was awarded 'Very Good' in both of the categories examined: quality of care and support; and quality of management and leadership. To conclude, the report stated that 'The staff had high expectations for all children, resulting in confident, motivated, successful learners.' We expect another inspection soon. The last year saw us continue with a successful Beach Nursery programme, whereby, topics such as sustainability, environmental awareness and positive action are introduced through experiential learning outdoors in a natural setting.
The Nursery underwent a refurbishment at the beginning of the academic year. New wooden flooring, tables and furniture was purchased and display boards were mounted with natural hessian. The purchase of new furnishings allowed us to evaluate and improve our daily practice and the children's independent experiences. The Nursery remote learning programme received fantastic feedback from parents and was considered a huge success. Participation was not mandatory; however, the vast majority of children took a very active part.
The Pre-Prep department celebrated its 40th anniversary this year and this was marked in September with a 40th birthday party to which former parents, children and teachers were invited. The children gave a performance to reflect on what was happening forty years ago and tours of the recently refurbished building were given.
With an average of 16 pupils per class across the School, class sizes remained appropriate to the Cargilfield approach. In Form 8, 37 children sat 13+ Scholarship or Common Entrance, with all gaining entry into their chosen senior schools. In addition, 11 children in Form 8 who were young enough to remain at Cargilfield for another year, also took Common Entrance examinations which were marked internally. 20 scholarships were won by the leaving cohort - and these included 8 academic awards with a King's Scholarship at Eton and an Oundle Academic Scholarship. We are proud of the School's strong record for awards over the last ten years but this year was up amongst the best.
The destination schools remain as diverse as the talents of the pupils themselves, and this year included Clifton College, Dollar Academy, Edinburgh Academy, Eton College, Fettes College, George Heriot's School, Glenalmond College, Kilgraston School, Loretto School, Merchiston Castle School, Oundle School, Rugby School, Shrewsbury School, and Uppingham School.
Other academic highlights for the year included our first exchange programme for staff and pupils with St Paul's school in Maryland, USA. We also held our third Book Festival (this one a remote and online project); a STEM Day for Pre-Prep and Upper School; a French trip for children in Form 7; success for Maths and Debating teams in Scottish National competitions; and our best performance yet in the Townsend Warner History competition for prep schools across Britain, including two results in the top 15 places.
The School continues to promote an all-round education in every way for each child. The music, art, design and technology departments provide an excellent outlet for the nurturing of specific talents, as well as offering cross-curricular opportunities into the main academic syllabus. Art continues to be a strength at Cargilfield and a popular activity that runs throughout the day with break-time and evening clubs. It was striking that this continued within lockdown, where weekly films and classes encouraged the children to find lateral ways of communicating their artwork with a particular focus on recycling and sustainability and an exploration of elements of art history.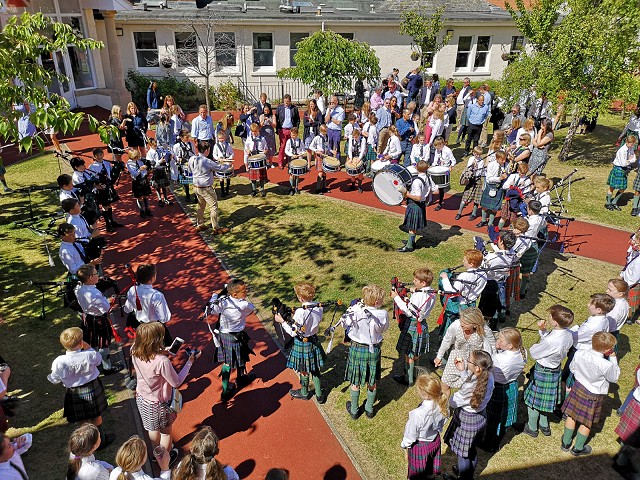 In Music, we have enthusiastic junior and senior choirs that perform every week in chapel and we were especially pleased this year with two concerts at St Cuthbert's Cathedral in Edinburgh: one created alongside a number of readers on the theme of 'Freedom' and another in a joint performance with the Durham Choristers' School. This year, we enjoyed one of our best musical cohorts and the standard of the orchestra was as good as we can remember. Likewise, we enjoyed our best pipe band for many years and, as a result, they played at the Scottish Schools Championships (despite being much younger than any other band).
Music in remote learning was outstanding with almost all children continuing their individual lessons and with weekly concerts recorded for the whole community. These led to a series of former pupil concerts as well as some inventive collaborations of music groups playing from home. The teaching of music theory continues to be popular at Cargilfield with about a third of children in the Upper School working towards external exams.
We are proud that most children took part in a drama production during the year, be it school or year group plays (including a remote performance for Form 8 which was crafted from individual recordings). Some children took this further with opportunities through the Drama Club productions, while a group of Form 7 and 8 children auditioned and were selected for a joint production at the Edinburgh Fringe Festival with a handful of English schools under the banner of the Aquila Theatre Group: sadly, this wasn't able to proceed due to the cancellation of the Edinburgh festivals. Debating is now a key part of the curriculum for children in in the Upper School. We have hosted the Scottish Prep Schools Debating Competition for the last four years (winning the main competition this year), and fielded teams in other Scottish competitions where we are often the only junior school competing.
Sport and outward-bound activities remain core to Cargilfield's distinctive offering. Games are played every afternoon and allow a mix of activities for girls and boys. While sport can be a life-long passion for some, making it fun for all has to be at the heart of any prep school.
The 2019/20 year was another successful one on the games field (even though it was cut short) with all four of our boys and girls Under 11 and Under 13 hockey teams qualifying for the IAPS National Hockey Finals (the first time in the School's history).
Both Under 13 teams made it through to the latter stages with the girls reaching the quarter finals and the boys finishing 3rd. We have again hosted rugby and hockey 7s tournaments for under 11 boys and girls and both Under 13 teams won the equivalent tournaments at Loretto in October. A number of boys and girls were successful in winning all-rounder and sports scholarships to their senior schools while others represented Scottish prep school, regional and national teams in a variety of sports.
Our new astroturf facilities were completed with the extension of artificial cricket nets which are now an impressive facility for both boys' and girls' cricket. While the loss of the cricket season made it more difficult for us to further extend girls' cricket, this remains a goal going forward.
These new facilities also allowed us to extend the number of holiday hockey and tennis camps for Cargilfield and other local children during the Christmas and Autumn holidays.
The School makes good use of its opportunities in the Scottish countryside. All children in the Upper School have the option to take part in camping trips through the year – and we have developed many intrepid Munro-baggers, canoeists, cyclists and climbers. In Form 7, the whole year group visit the Burn Estate in Kincardineshire for a two-day Geography and Science Field trip. While these opportunities were more limited this summer, teams took part in competitions at St Mary's Melrose and the inaugural 1847 Challenge at Glenalmond last September.
The development of chess – now a curriculum subject for Form 4 – and the Eco Club have continued this year while we continue to use recommendations from the School Council and Boarders' Council to hone the range of evening clubs we offer for both boarders and day children. We are hopeful that a relaxation of COVID rules will soon allow us to return to this full pattern of activities from 8am to 8pm.
In addition to the regular programme of lectures from visiting speakers, we have re-instituted the Reynolds Lecture. The first annual lecture was given by The Lord Campbell of Pittenweem, who was interviewed for the School by the Headmaster and for parents and visitors by Fiona Henderson. When we are allowed to do so, this will become an annual event to which we will also invite our neighbours in Cramond and Barnton.
Against the background of enthusiastic staff and pupils, the School has to be fit for purpose. In addition to the new astroturf sports facilities, the last ten years have seen the addition of two new classroom blocks, a new music school, and a substantial changing room facility. Over the last five years, the focus has also been on more mundane, but perhaps more critical, programmes of repair and renewal. The School has completed a major re-roofing project covering the main building and the Chapel, renewed boilers and electrical connections, as well as investing to update our systems and practices in respect of IT, asbestos, water and fire. We have reviewed and updated our approach to property management and health & safety, working with appropriate professional advisers and ensuring adequate training of all staff. A very visible manifestation of this review has been the repairs and alterations to the on-site roadways, which have allowed us to improve parking and ensure School grounds are as safe as possible.
This year we have completed the refurbishment of our Chapel and Theatre, with the project partially paid for using funds raised by Friends of Cargilfield, introducing new audio/visual equipment to better serve the increasing number of visiting speakers coming to the School. We have also recently completed projects to refurbish the Pre-Prep building, ahead of its 40th anniversary in Autumn 2019 and to introduce new medical, counselling and meeting rooms within the main school building. A new bathroom and staff flat within the girls' boarding wing have been welcome improvements.
In IT, a series of new initiatives continue to improve the base infrastructure and allow the expansion of technology into teaching and learning. Building on the significant upgrade to broadband capacity completed previously, the servers, Wi-Fi and support systems continue to be improved. Staff are continuing to evaluate the greater integration of iPads and smart boards into curriculum delivery, and the Education Committee continues to work alongside the Senior Management Team to scope out the best strategies for training and development. We have introduced a new Management Information System that is being used much more widely by staff than the previous system – with reporting, daily notes, pastoral records and general pupil records (amongst other things). The School's finance operations have now also transferred to the new system. These are also our first significant applications to be hosted in the cloud rather than locally hosted on School servers and it is expected that other applications will follow in the future.
Most significantly for staff, parents and pupils was the use of Microsoft Teams as the main vehicle for teaching in the Summer Term. The School - led by Deputy Head, Ross Murdoch – made sure that all staff and pupils were able to access online learning. This included training for all involved as well as making school hardware available to those who required it and a significant effort in delivering learning materials and monitoring progress and welfare remotely. This aspect of teaching and communication is being further reviewed to improve our performance should it be required in the future.
From a marketing and communication standpoint, we have re-visited our promotional material and used updated images to produce a new advertising campaign. We continue in our efforts to communicate more effectively with former pupils, implementing a new database to make this much more efficient. A small working party including staff, governors and former pupils is now exploring how to develop this community further with a view to celebrating the School's 150th anniversary in 2023.
A significant venture for this year was a project to mark the School's evacuation to Lawers House in Perthshire from 1939-46. We attempted to communicate with all surviving former pupils from this period and received some lovely replies from a good number of old boys. The project culminated in a Performing Arts production inspired by accounts of life at Lawers which was watched by John Gunn, a former pupil of Cargilfield at Lawers, who travelled up from London to visit the School and mark the occasion.
The Governors have continued to review their approach to the oversight of the School. In terms of training and the assimilation of best practice, the Governors have continued to attend a series of INSET training activities throughout the year including a presentation by Mungo Dunnett on the current state of independent education. Most pressing within this year has been the reaction to the COVID crisis and the governors have supported the School through regular meetings with the School's management team as well as extraordinary meetings to review matters such as fee rebates and staff furlough schemes.
The Education and Welfare Committee continued its work in guiding developments in pastoral care, especially with a view to counselling and children's mental health. They have also looked at curriculum matters with a particular focus on supporting the development of Curriculum Leaders and building a regular culture of improvement planning. They have helped the re-design of a new and more thorough system for appraisal of teaching staff. The Safeguarding Committee of governors has now established precise reporting criteria so that potential issues can be monitored most effectively.
CHARITABLE ACTIVITIES
Cargilfield is proud of its position in the community. Cargilfield buildings and grounds are available to hire for a wide range of activities and events. Within the community the Pipe Band plays regularly in the local area; the Chapel Choir visits nearby nursing homes, as do other groups of children and Cargilfield continues to maintain its very close links with Cramond Kirk. The Sports Hall is used regularly by various groups in the Edinburgh area for badminton, cricket, fencing, football and hockey in particular. Cramond Primary School uses the facilities at the School throughout the course of the year, including holding its annual sports day at Cargilfield.
The Cargilfield Activity Week during the summer is open not only to Cargilfield children, but also to others in the Edinburgh area. Similar holiday coaching camps for football, fencing, tennis, hockey and Young Engineers are also hosted. The annual Christmas Fair is open to the public and continues to be very popular. We look very favourably on all applications from outside Cargilfield to use Cargilfield grounds and facilities. Some of the groups which use Cargilfield do so free of charge. In other cases, there is a very low hourly-rate.
Sadly, all of these activities were put on hold from March 2020 due to COVID restrictions and we are currently exploring how we can bring visiting groups back on site later in the year. The impact upon our charitable fund-raising was, therefore, significant. The two main fund-raising activities - The Pentland Round (a sponsored walk through the local hills enjoyed by all members of the community) and the Summer Fair – had to be cancelled.
The Macmillan Coffee Morning and the Christmas Fair did go ahead along with other bakes sales for projects nominated by the children. Over £550 was raised from Chapel collections for the Almond Mains Initiative (a local charity supporting the elderly in the community). There was also a collection of food for the Fresh Start Charity. Over £100 was also raised from a public performance of the pipe band on the front at Cramond.
The three main charities selected by the Upper School and Pre Prep children and the Friends of Cargilfield for 2019/20 were Super Troop (organising holidays for children and young people with disabilities); Penumbra (a Scottish Mental Health Charity) and Dogs for Good (involved in providing assistance dogs for those in need). Given that the funds raised last year were down on what we would normally expect, we plan to stick with largely the same charities for the 2020/21 year. In spite of the restrictions this year, children and parents still raised in excess of £2,200 for the School's charity partners.
BURSARY AWARDS
There is a continued emphasis from the School and the Board of Governors to use bursaries to enable access to pupils from a wide range of backgrounds and to maintain the social mix and diversity of the School. Bursary support is available from Form 4 and includes 100% awards. This has enabled some children to attend the School who would not otherwise have been able to do so, and is accompanied by appropriate guidance when such pupils are looking at senior school places. Recent years have seen the beneficiaries of the bursary scheme move on to fully assisted places at major public schools in both Scotland and England. Some recent examples include:
Girl 1 Won a scholarship to a major English boarding school.
Boy 1 Was a successful all-rounder and was given a subsequent bursary to a major English boarding school.
Girl 2 Won a music award and was given a subsequent bursary to a major Scottish boarding school.
Boy 2 Was appointed a prefect and won a sports scholarship to a major Scottish boarding school.
Girl 3 Won an academic scholarship to a major Scottish boarding school.
Boy 3 Was an extremely successful musician and sportsman and was given a subsequent bursary to a major Scottish boarding school.
The total number of means tested bursaries awarded was 13 (2019: 14), with an annual value of £170,668 (2019: £178,028). Two pupils received 100% bursaries during the year (2019: 3) and a further six pupils received bursaries of 90% or above (2019: 3). The School continues its ongoing support for this purpose, and the value of the designated Bursary Fund at 31 July 2020 was £1,039,110 (2019: £1,019,583).
FUTURE PLANS
Our future plans reflect our commitment to an excellent all-round education for pupils within a flexible boarding and day environment, delivered by a professional and motivated staff. In the short term, these will be driven by the ongoing demands of the COVID crisis and will include the lessons learnt from this experience as well as exploring the best ways of returning to our normal routines within government guidelines.
Learning We feel that we offered the very best remote learning during lockdown and we are determined to make sure that this continues whatever the circumstances of the new academic year. We will review the successes and challenges of remote learning and will create a policy to prepare our families and staff for possible scenarios of remote or blended learning. We plan to implement a targeted reading scheme for children as the first part of plans to further develop our library. We also plan to extend the language experience for our Form 8 leavers.
Breadth of Experience This is one of the greatest strengths of a Cargilfield education and will, inevitably, be restricted in the initial return to school. We will explore how we manage a full programme of sport and include opportunities for competitive matches both within the school and against other schools. Music and theatrical opportunities will be limited and yet we will explore how to achieve live music lessons and ensemble opportunities in a safe fashion. Building on the experience of last term, we will create other performance opportunities through our remote platforms. Restoring a full range of extra-curricular clubs and wider boarding opportunities will be a priority for the year.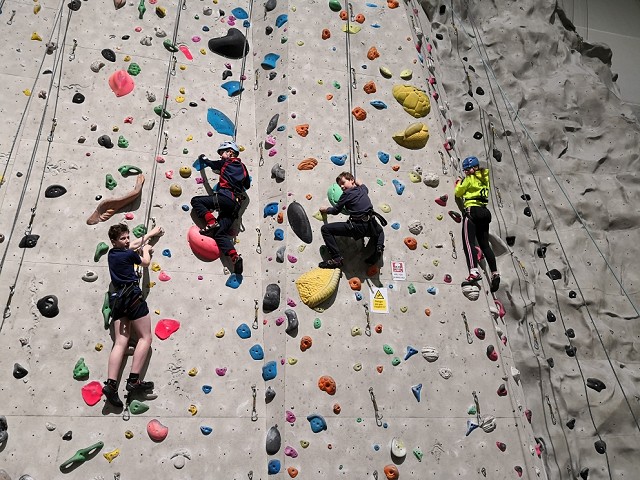 Welfare Despite the obvious excitement amongst all of the school community to return on site, we realise the challenges of the last six months for a number of our families will require increased vigilance and will test our pastoral structures. The changes to the school routine will require a different approach to boarding and we will adapt our evening routines to achieve this. We plan to support boarding at Cargilfield by developing the common room facilities to create a more pleasant and practical environment.
Outcomes While we are proud of the successful outcomes achieved by children leaving Cargilfield, the events of the last twelve months have reminded us that a Cargilfield education must play its part in a more equal society and we will be exploring that with particular reference to race and gender.
Staff Development With all of the challenges facing the staff over the last six months and going forward, we are delighted with how they have responded with energy and imagination to fresh challenges. Supporting their welfare will be a particular emphasis for the management team this year, including maintaining childcare support at key times and purchasing new hardware to support different working patterns. We will, however, also begin to implement the new two-stage appraisal process.
Communication and Recruitment With a school site that cannot welcome parents or visitors in the same way that it has previously, the need to communicate effectively with our community will become all the more important. We will continue to prepare for our 150th anniversary in 2023, by completing our database of former pupils and will adapt the visits of prospective parents to times when children and staff are not on site. We have exciting plans for further marketing the school to a wider community which will include offering more bursary opportunities to families who would not, otherwise, be able to access a Cargilfield education.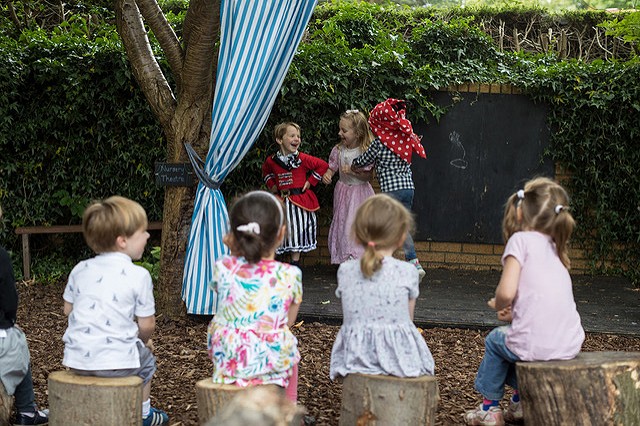 Finance, Infrastructure and Administration This has been an area of significant development over the last few years. Building upon the platform of a new school-wide management information system that was implemented at the start of the academic year, we will integrate finance and communication systems which will improve our interface with the parent body and allow us to become more efficient and responsive in our back-office processes.
Facilities and Environment While are proud of the extent of our facilities and the lovely environment in which we live and work, there will be further improvements to the physical infrastructure of the School. These will include improvements to the boarding area, the Nursery garden and other outdoor learning spaces.
Despite the challenges that we expect the next year to hold, we are excited about the strong position from which we are approaching these.
All such activities will be reviewed and prioritised by the Board as part of a rolling three-year financial plan which will ensure that Cargilfield enters its second sesquicentenary in a strong financial position and as relevant and progressive as it was at its foundation in 1873.
See the school accounts at the bottom of this page.