It was a long afternoon with plenty of hockey. We began well with win against Sedbergh. In the first half, we deflected a penalty corner into our own goal to make it 2-1 but we began the second half much sharper than we finished the first and managed to improve on our goal difference which was important in the end.
In the second match, we played the hosts, Fettes and managed to get a quick goal but Fettes came back into it and Albie had to make a terrific save to keep his clean sheet. We eventually got the second which took a little pressure off our otherwise resolute defence in Rory, Luca and Harry.
Belhaven were up next and we knew, having watched them and seen their results, this was going to be tough. We had a chance to go one up: James, who had been outstanding in the opening two games, broke down the right but the final pass wasn't quite accurate and Cody wasn't able to put it away. Belhaven finished the half stronger but Rory was superb at the back to thwart any threat and in the second half, we were fairly dominant but couldn't find a way past their strong defence and excellent goalkeeper. The final whistle went on our 'duel in the sun' and it suddenly made the afternoon very interesting indeed.
When we faced Ardvreck in the fourth match, we started really positively with some terrific quick passing, especially between Cody and Glen and went 2 nil up within a minute. We knew that the tournament could possibly come down to goal difference if Belhaven and us kept winning our games and we let this get to us a bit. Unfortunately, complacency set in and we tried to do too much individually and look to score the 'miracle goal'. As we missed opportunities, our heads dropped and it was time for a reshuffle. On came Murray, Charles and Ollie who made a huge difference. Charles scored 3 goals – one of which was a cool lift over the goal keeper and another a terrific deflection high into the net. Murray put in a great touch at the back post after a Cody shot from a short corner and also had a lovely reverse shot.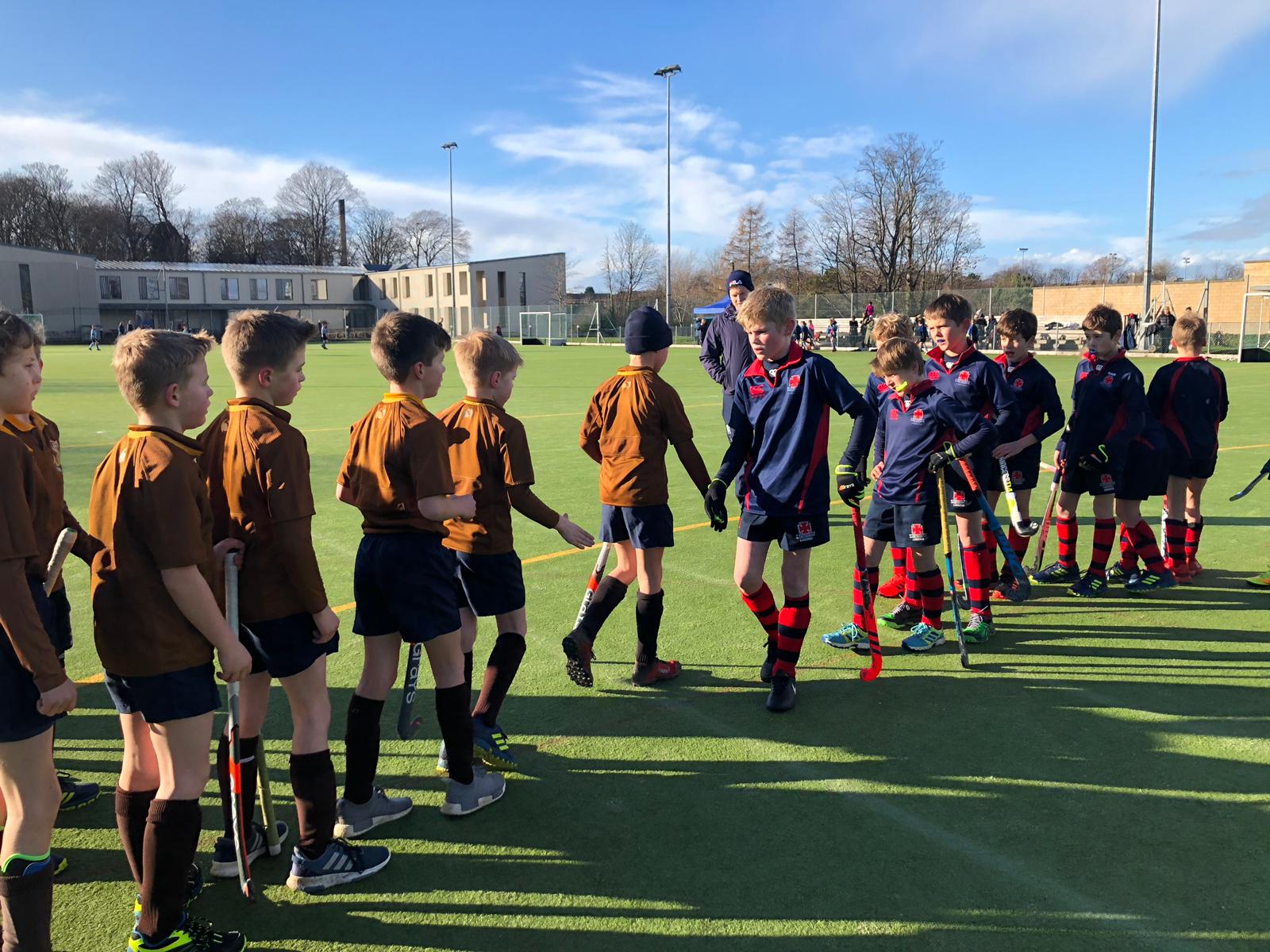 Following the break, there was a bit of a team selection dilemma – do we start with the team we started each game with or do we reward the team who finished the previous game strongly. It was the latter and those boys played some terrific hockey. Charles linked up well with Cody and scored to settle the nerves. Murray was terrific down the left and Ollie was bossing the midfield. Glen took up a position on the right and was allowed to run at the defence and put some terrific balls in. At half time, we brought all the subs on and they continued to help the team to score some more goals.
With Belhaven winning the remainder of their games but not catching up on our goal difference, we knew we just had to beat Craigclowan to win the tournament. And it seemed we saved our best hockey for last. We went with a different line up but one that was attacking as getting the early goal was crucial. Charles got this after a little lift past the keeper and then as a team we wound down the clock by clearing lines, not forcing the pass but playing it around confidentially at the back. We got a couple more goals and then brought on fresh legs. Murray was electric on the left; Harry was solid at the back and the two combined to help set up the goal of the day. Murray, with nowhere to go on the left, turned and knocked it back to Harry in his own half. The ball was transitioned across the pitch through Ollie to Glen who went down the right wing and played a terrific ball to Luca who finished in style. A great team goal!
When the final whistle went there was relief and celebrations all round with the boys knowing they had booked a ticket to the IAPS Finals at Rugby School in March.
Well done to all the teams but especially Belhaven who pushed us to the end and forced us to raise our game. It is a shame that this year just the one team go south as Belhaven would make a good account of themselves as they played some nice hockey.
However, we were deserved winners with the number of goals we scored and the way that we managed to unlock what were solid defences at times. Many thanks to Fettes for hosting the tournament and making sure everything ran on time. We now have some serious work to do to prepare for the finals which the level of play is always at a higher level but for now boys, enjoy a well-earned rest!