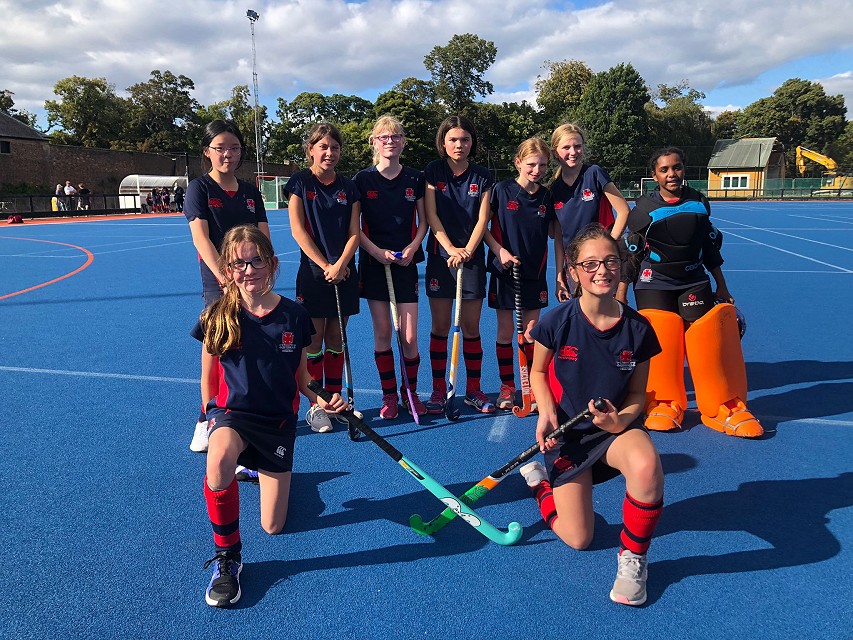 U13B Hockey v Loretto
This was a great game of hockey in the sweltering heat. Loretto as hosts began well with lots of strong attacking play and moving of the ball but we defended stoically with Beth, in her first game as goalkeeper, putting in some fantastic saves. We were unlucky when Bea hit the post against the run of play and the ball ran along the line but there was no one there to put it in. Some of the players from both teams had never played penalty corners before so there was a bit of learning on the spot. However, we defended very well and held our positions with Tessa in particular, playing her part well by closing down the first shots. It looked as though we might go into the break 0-0 but even after the heroics of our defence, marshalled by Nadia, we conceded after a bit of a scramble in front of goal.
In the second half, Loretto began strongly again and a lapse in concentration at the back where attacking players were left unmarked, they doubled their lead early on. We didn't give up and Tessa scored from our first attacking penalty corner with a fierce strike to the keeper's right. Loretto came again but Hattie and Jacqueline in defence dug in and we managed to get the ball up the pitch quickly by playing it to Julia on the right. She put in an accurate cross which Amalia controlled well and after her initial shot was saved, Rowan got the rebound to tie the game.
For the next 6 or 7 minutes either side could have won it but Loretto, who were arguably the better team on the day given the amount of possession and shots on target they had, managed to get the winner as they flooded their forwards towards our goal and we were outnumbered. There was a chance to equalise in the dying moments but the ball rebounded and hit one of our feet.
We learned a lot from this game: how to attack and defend short corners; how hitting the ball off the back deliberately results in a penalty corner (although we didn't learn from that straight away!); and how moving the ball means you'll tire out the opposition and play nicer hockey. Well done to the winners, Loretto and thank you for the hospitality.
Player of the match went to Beth, who made a number of fine saves and kept the game close!